Popular

articles

from I Love Orlando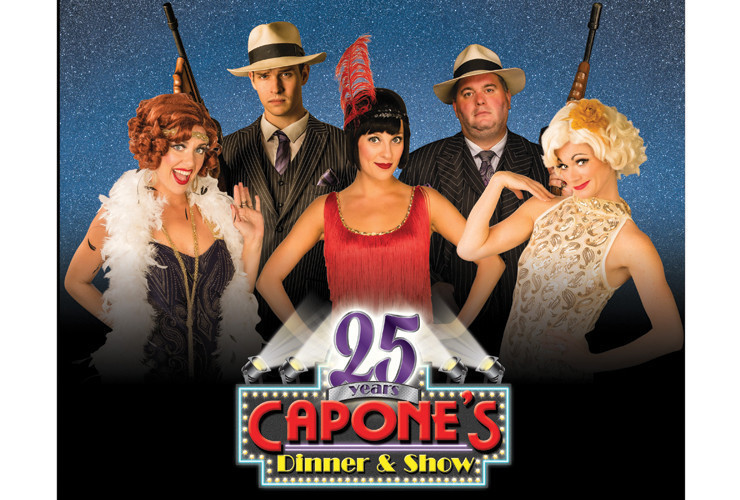 Dining
Capone's Dinner Show
Fall/Winter 17-18
The new show at Capone's Dinner & Show is the highlight of their 25th anniversary celebration. Dazzling new costumes, reminiscent of the prohibition era and spectacular new musical numbers are a hit. Never before has the joint been this much fun to experience!
It may be Capone's anniversary, but you get the presents! During the "25 Years of Memories" celebration, prizes are awarded each and every night. Guests receive various treasures during the gangster shoot out, which is filled with action and excitement.
The new show brings back many fan-favorite characters, including Bunny-June, Miss Jewel, Fingers Salvatorio, Detective Marvel and those gorgeous dancing girls. Goofy gangsters are at it again with sidesplitting antics sure to entertain all ages. The new show is faster-paced with more crowd involvement than ever before. It's truly the cat's meow!
Capone's offers a great entertainment value. Tickets include free parking, a secret password for entrance into the speakeasy, a quality cabaret-style show, a delicious all-you-can-eat dinner buffet, unlimited drinks (including alcoholic beverages) and yummy dessert. Have a large group to please? Capone's offers a great group deal and is perfect for all ages!
There are plenty of ways to walk the walk and talk the talk. Upgrade to VIP status and be treated like a 'high pillow' for the evening. Add in a feathered boa or fedora from the gift shop and 'dress the part.' Attending "the family" celebration in style is sure to create new memories of your own!
Go back in time to 1931 Gangland Chicago and experience an era of mobsters, dames and attitude…with a heavy dose of humor. From the moment you arrive, be prepared for an evening of entertainment unlike any other dinner show. The 50% off coupon makes this a value you don't dare refuse. Bring your entire gang and enjoy this blast from the past!
FOR MORE INFORMATION:
1-800-220-8428