Popular

articles

from I Love Orlando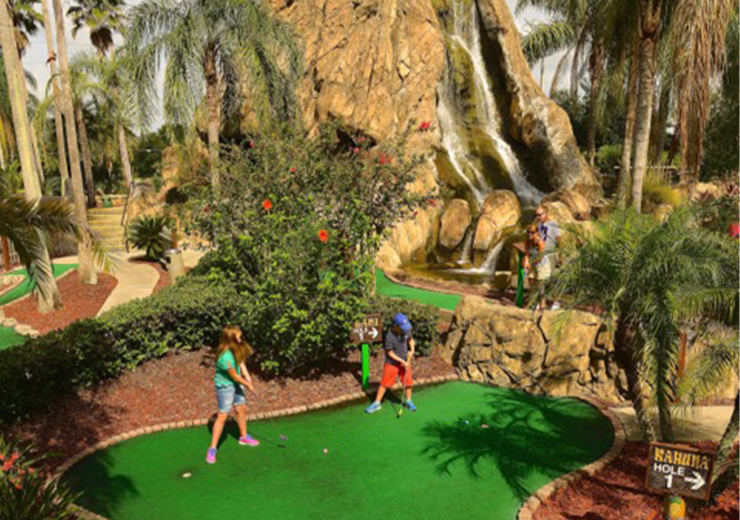 Attractions
Just Fore Fun
Summer 2020
It isn't just another fun family day, it is a mini-golf experience that you will cherish for years to come! At Hawaiian Rumble Adventure Golf, play miniature golf in a relaxing tropical setting. A beautiful golf course surrounded by swaying palms and dramatic waterfalls, gives you the ultimate experience for your family fun day or any occasion. It's the all-around fun for all ages.
Lost Caverns Adventure Golf, International Drive's newest miniature golf attraction is a must-see destination for the entire family. Lost Caverns is recognized as a Certified Wildlife Habitat due to its plentiful native and non-native plants and numerous wildlife inhabitants. In addition to miniature golf, the facility offers guests the opportunity to feed fish and live alligators. Located within Orlando's tourism district. Hope to see you soon!
With eight locations in Florida to choose from, there's an adventure for everyone at Congo River Golf. Experience tranquil waterfalls, mysterious caves, tropical rainforests, challenging golf holes and more as you follow in the footsteps of Stanley and Livingstone on an unforgettable African adventure.
Come aboard mates! Make Pirate's Cove a part of your Orlando vacation. Voted "Best in Florida" by Orlando Magazine, the adventure golf courses are renowned for their innovative hole designs, lush landscaping and entertaining pirate theming.
The adventures and legends of infamous pirates come to life as you enter the world of 18th century buccaneers with sunken ships, cascading waterfalls, dreaded pirate dungeons and lush tropical vegetation.
Experience the most outrageously themed miniature golf at Hollywood Drive-In Golf located at Universal CityWalk™. Inspired by the 1950's era, guests enter a classic drive-in theater box office area where they select either a "single feature" (18-holes) or "double feature" (36-holes) with a choice of two family-friendly courses, "The Haunting of Ghostly Greens" and "Invaders From Planet Putt." Based on vintage horror flicks and "little green men" science fiction films, guests will putt through elaborate movie-style scenes.
Putting Edge provides an unordinary entertainment experience. From the moment you enter their black-lit facility you have left the "real world" to be immersed in a dazzling universe full of fun, imagination and illuminated activity. Putting Edge offers a challenging multi-level mini-golf course like no other with an arcade, snacks and event rooms that appeal to every crowd – all of which are sure to rock your senses with wild colors, images and sounds. They are "Weather Guaranteed," open late and always taking reservations!