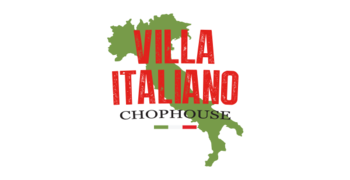 Villa Italiano Chophouse
You don't have to travel all the way to Italy for an authentic Italian dining experience. At Villa Italiano Chophouse, we celebrate Italy's culinary passion with fresh ingredients and house-made recipes. Come hungry to this hidden gem and be delighted to discover finely crafted dishes that will be sure to satisfy even the most discerning of palates.
Our unique restaurant serves chophouse specialties including tender filets of beef, hand-selected cuts of ribeye, top sirloin and more. For your main course, experience savory classics such as Chicken Parmesan, prepared with house-made breadcrumbs and fresh herbs served on a bed of spaghetti marinara burrata.
You can also enjoy delicious salads, antipasti boards, pizzas, pasta dishes and other signature entrees along with an extensive wine and cocktail menu. Try a new pairing with a seasonal wine selection from our beautiful 500-bottle wine cabinet. And for a memorable ending, indulge in a hearty scoop of Pistachio Gelato or wrap up with an authentic, chocolate-dipped Cannoli. Our world-class Italian Chophouse awaits you. Benvenuto!
Hours subject to change seasonally.
For reservations, visit OpenTable.com
Westgate Vacation Villas &
Town Center Resort
7700 Westgate Blvd.
407-396-8523 Ext. 41748